Beinn Damph, on the south side of Loch Torridon with the falls of Balgy just around the corner. A wonderfully secluded place, reached only on foot.
One of my favourite places in the world. I can remember going out in the blue boat when I was a kid, hauling up lobster pots and catching mackerel. I took this photograph about 20 years ago…the boat has pretty much rotted away now. On the horizon is the Isle of Skye which you can usually see if it isn't raining. Beyond are the outer Isles, which you get a glimpse of, just once in a while….makes it all the more precious. Oil on Canvas, 60cm by 40.
This painting is from the other side of the pier. Clouds in the sky, so no sign of the Islands, but a deeper blue to the sea, indicating that it is about to rain. Actually most things here are a clue that it's about to rain.
Further up the hill now, on another idyllic morning. I'm going to re-photograph this painting: something about the creamy colours in the highlights has made it go funny… But you get the general idea. This painting is looking south, so that's the other side of Loch Torridon in the background, and a slightly altered view of the road into Diabaig at the front.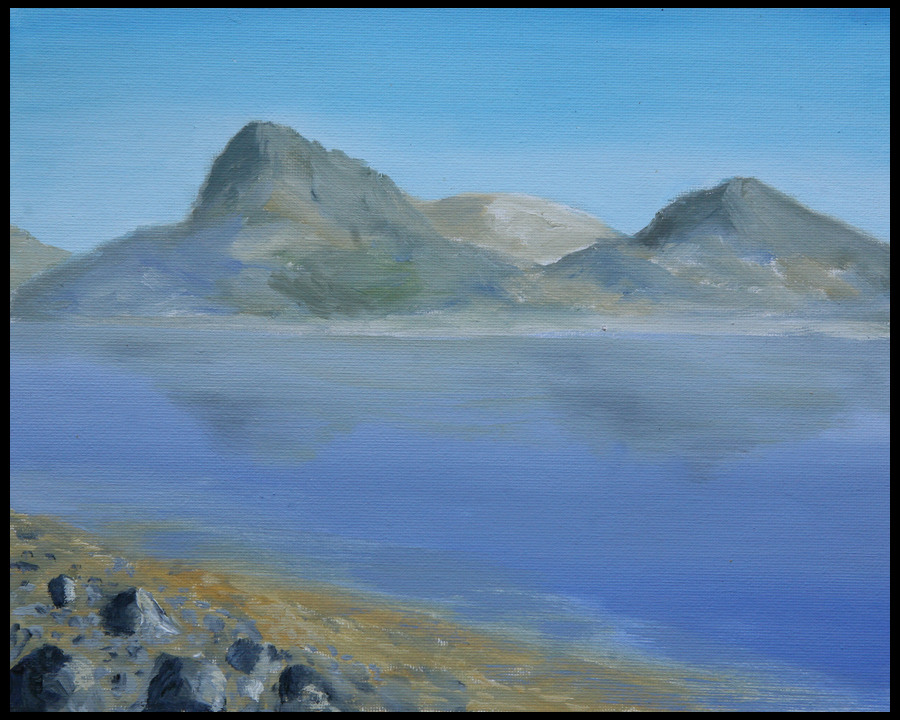 View across Loch Torridon at low tide, on one of those rare, still days, the perfection only marred by an excess of midges and a slight smell of seaweed. Oil on board, 10″ by 8″.
This painting is of a photograph taken from our garden, about 20 years ago, with a long lens. The boat eventually became the much photographed wreck on the shore. One of those projects that just got away… The sky was a mixture of sun and cloud, with bright rays on the hillside opposite where the bracken had just come out, so the sea really did look that colour.
The sands at Redpoint, on the north side of Loch Torridon. She's going to need more than that hat soon…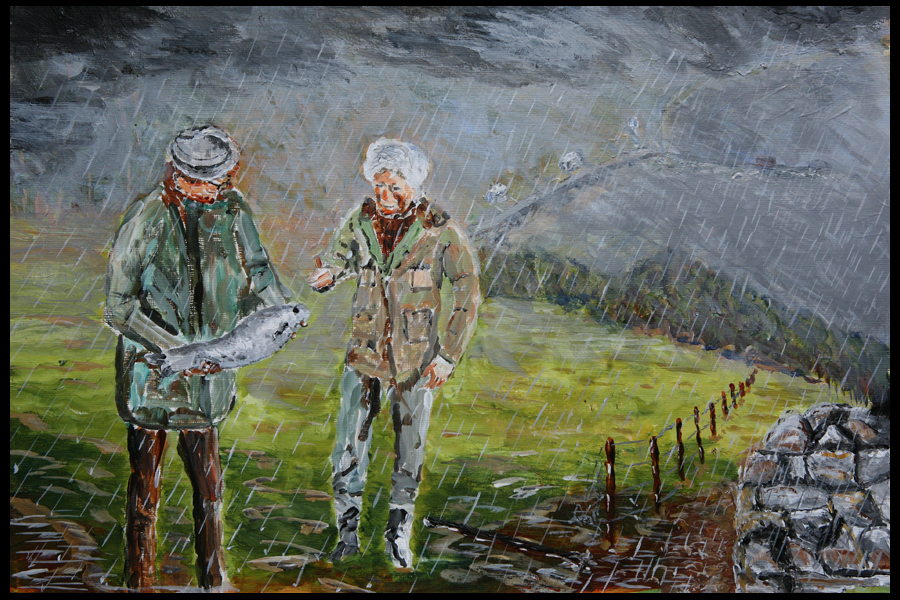 And finally, I feel the set would be incomplete without this. On the left, my father, the late John Dixon, talking to Duncan, one of the great characters of Diabaig.