Why should I keep doing the same job all my life?
I bet, at some point, you've wondered about a new career? Something completely different? Good for you. I don't think there's anything wrong with that, even if you enjoy what you do. The same sort of job for 40 years is bound to get tedious, even if you do climb the promotion ladder. And it's fun to try new things…
But, when you learn a new skill, and then try to make money at it, you're alongside people who've been doing it for years. And it can be hard to remember that you're back at the bottom of another greasy pole. It's even worse if you've been successful in your previous job because you tend to assume you'll be good at the new one too, possibly without having to try too hard.
I'm an inventor and scientist, but I've been a chairmaker, a photographer and (briefly) a model in my time and I've enjoyed every change. I'm 18 in that picture (and obviously having fun!). Dreadful haircut though…
I've always learnt properly, from professionals and the memory of my time with Tom Thackray, who taught me to make windsor chairs, still makes me smile. As does my Dad, a well known fashion photographer, who taught me his trade when I was still a teenager. He ended up as a royal photographer, following the family worldwide, and I was very proud to talk about him on the Jubilee edition of the Antiques Roadshow in 2012. So maybe changing careers is a family thing: he'd started out as an industrial chemist at Rolls Royce.
I started writing fiction about ten years ago, self published my first novel and sold copies at horse trials and by speaking at rotary club events. Unlike everything else I've done,  writing isn't something you can formally learn, but that doesn't mean you can't get better from being coached. So I'm currently taking a couple of modules at the Writers Centre, Norwich, (run by UEA) and tutored by the novelist, Sarah Bower. This is tremendous fun; I've learnt a huge amount about the craft of writing from her, and a lot about my own work from reading that of the other students.
"Write about what you know". So here it is then: the collected meanderings (I'm not going to call it wisdom) of the last 35 years. "Someone Thinner", my second novel, is about a guy changing careers with disastrous results. He's got talent but not enough patience and, deep down, he's not very sure of himself. And he doesn't listen to the women in his life.
(so not auto-biographical at all…)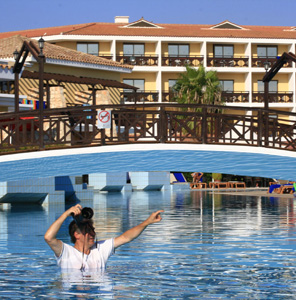 Speaking of patience
, here I am totally convinced that the only way to get the angle I want is from the middle of the swimming pool. Don't try this at home, digital cameras sink just as fast as the film ones used to, but it did make the bride smile. Nothing at all to do with it being Cyprus, about 35 degrees and a lot of heavy camera gear to carry around…
www.youmaynowkissthebride.co.uk
if you'd like to see more of my wedding photographs.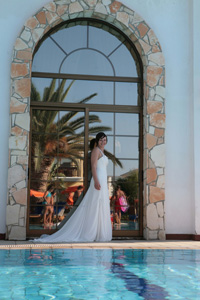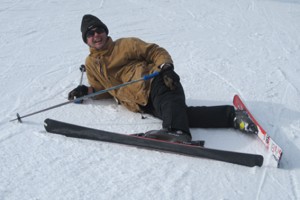 And too much confidence pretty much started the novel off: three years ago I went to Switzerland to speak at a pain conference… and broke my leg. Yes, very funny and my own fault: I should never have been on a red run in deep, wet snow. I clearly remember the horror as the ski dug in, I somersaulted and felt the bone snap in mid-air. The funicular train ride that got me off the mountain was painful, (although on time), but Swiss hospital food is excellent so I put my feet up and started writing "Someone Thinner". Actually just the one foot, it was horribly swollen and the surgeon kept lifting it higher, telling me that "gravity would be my friend". Eventually I pointed out that it was gravity that had got me into the mess in the first place and he went off in a huff so I ate some grapes and started on the plot.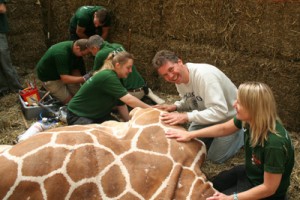 "Woolly-topped mammal…meets alpaca"
won the caption competition for this picture. My PhD was in measurement and pain is one of the hardest things to measure, which is why it's fun. So now I invent things to help quantify pain and how much analgesic drugs reduce it. We're working hard here, keep this giraffe's muscles warm while his hooves are clipped.
www.topcatmetrology.co.uk
to read more.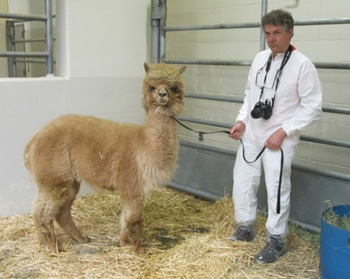 Back to the beach
where I often seem to get lucky (?). 2012, on holiday in south-west Australia, I came upon a rather glum wedding party: the photographer hadn't turned up and all they had were mobile phones. I always carry a proper camera and I was very happy to take some photographs of the wedding party while my friends exchanged contact details with the bride's mother. We emailed them the images later, somehow the story got out and I ended up on the news on both sides of the world!
And Cocoa beach, 27th May 1999,
2 minutes after lift-off for the space shuttle Discovery. Even ten miles away, the crackle of the engines was totally deafening, only surpassed by the sigh of relief as the solid rocket boosters fell away correctly, 91 seconds after they cleared the pad. Discovery launched at sunset and nobody moved even after the vehicle had disappeared into the clouds. Everyone just stood and stared at the huge vapour trail arcing across the sky and turning pink as the light faded.