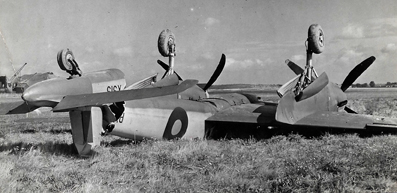 Don't be fooled: it's not a Mosquito. It's a de Havilland Hornet F3, PX313 (single strut undercarriage legs give it away), but often known as the prototype for the Mossie. This is just one shot from the family collection: my father, humble lab chemist by trade, was cajoled by his employer, Rolls Royce, into "doing a bit of photography for them" because he'd got a nice camera. Before he knew it he was sitting in the back of a Lancaster bomber, where the rear turret should have been, with his legs dangling over the edge, and clutching a 10″ by 8″ plate camera. And getting pictures like these…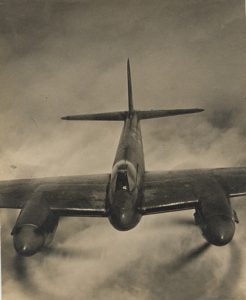 I think this one is a Mosquito, but I'm open to correction, most of the prints aren't marked. The reason for including them on a website about writing is that they provided the inspiration for my first novel, "Kicking the Tyres" where the hero restores and races old classics. I had the prints by me while I was writing, just to give me some atmosphere.
Dad built up a reputation for being completely fearless, despite the exposed position (no parachute) and the heavy and unwieldy camera. One shot at a time, on glass plates, and then he'd be gesturing to the pilot to get even closer for the next one…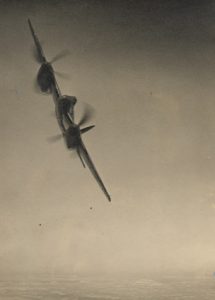 And finally, before moving on to cars, the prototype Vampire in a low level pass over the airfield. The back of the print states 1st September 1946.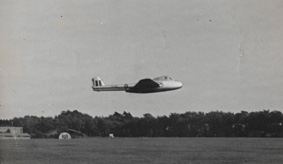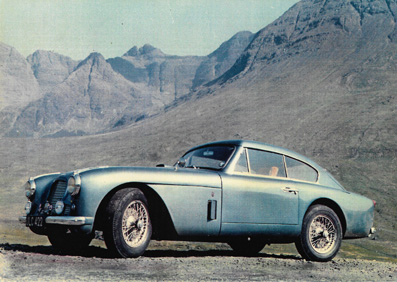 After the war Dad opened a studio…and did rather well at it, buying himself this Aston Martin DB 2/4 in 1958, registration ULC 422 and pictured here on the Isle of Skye. I quizzed Dad extensively about this car, as the hero of "Kicking the Tyres" has one at the beginning of the book (but not by the end…) and learnt all sorts of details: it even had a second set of spark plugs ("hard ones" for racing) kept in a little holder under the bonnet. The car still exists (although it's green now) so, if you by chance should know the owner, please ask them to get in touch. I'm sure they'd be interested to know that it was first owned by a prominent London fashion photographer.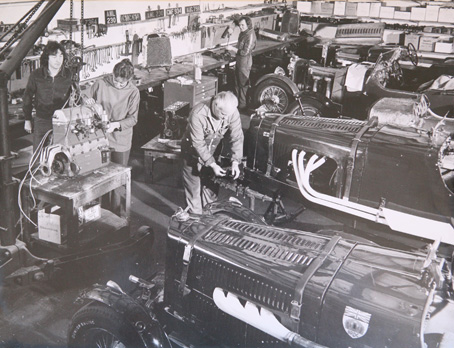 One of Dad's less brilliant moves however was to sell the Aston in the mid-sixties for, as he recollected, "a couple of hundred quid". Ouch! It went to Derrick Edwards, who ran a restoration shop in Highgate, North London. He raced it for a while, in between restoring pre-war Astons. Derrick in the middle here, bending over the front suspension of an Aston Martin Ulster, with Judy Hogg and Nick Mason on the left hand side. The three went on to form Ecurie Bertelli.
As a teenager I used to go there sometimes to help polish the cars before an event. It's a shame this shot isn't wider: on the other side of the shop stood a D type and an F1 Connaught which I definitely wasn't allowed to touch!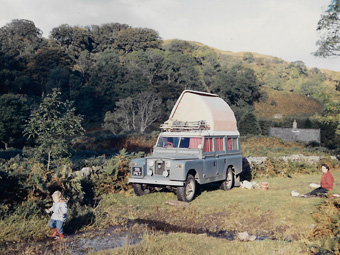 The family Dixon had meanwhile moved on to a less glamorous form of transport, a 1961 LWB Land Rover Series IIA, and modified by Carawagon for camping. It was the same era as the VW camper, but the Land rover was somewhat more rugged and definitely less comfortable. It would, as you see, go anywhere though. Mum on the right and yes, that's me, heading off left. Cute wasn't I?
There were two fold out bunks in the roof but the canvas went rotten very quickly and you had to be careful to spread your weight evenly. Propping yourself up on one elbow was a definite no-no: instant an spectacular rip followed by telling off…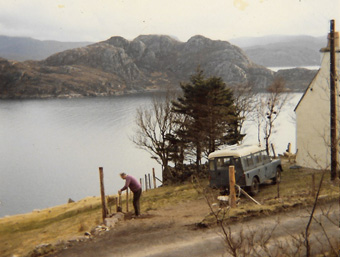 With the roof down the Land Rover looked pretty much like a normal station wagon, although the fibre-glass top (instead of the double-skinned Safari roof) was quite rattly (old Land Rovers being otherwise famous for their low noise levels…) and the six hundred mile journey from London to the west coast of Scotland took it out of everyone. Here she is in the driveway at Diabaig, our holiday home in Loch Torridon and part of the inspiration for Neil's background in Counting the Clouds.
(And yes, that's me on the homepage, much more recently, outside the same croft house.)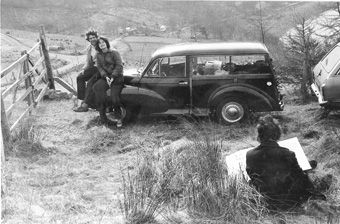 Soon after, I learnt to drive and decided to get something faster for the trip. Enter a 1958 Morris Minor Traveller which shaved a few minutes off the time and about 20 gallons of fuel…each way.
Both vehicles struggled with the hill outside the house, but in different ways: the Land Rover just pegged out, unless you'd switched to low ratio. And if you didn't, and tried a hill start, a half shaft would shear in the rear axle with a most expensive noise. The Morris had enough oomph, just, but the clutch wasn't up to it. Grinding our way along in first gear, Teresa and I once realised that the car was filling up with smoke as the clutch slipped continually. We stopped, applied the handbrake with both hands (a real gesture of faith), opened the windows and ran!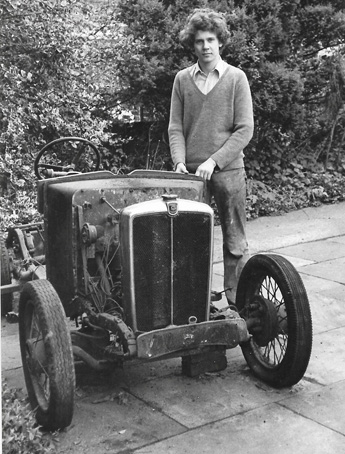 Undiscouraged, I then bought a much older Morris Minor (a real one?). Built in 1934 and stored in a duckpond until 1979, this was a real challenge. I never finished it, but met lots of great people while chasing parts, and eventually sold it, as a half-built car with all the bits to finish, a few years later.
Period features included a two bearing crank: a roller bearing at the front and a bush at the back (I think), and a firewall made of a sheet of plywood with half a millimetre of aluminium sheathing on either side. The ash frame that supported the body had long rotted away but kind people with similar restored cars let me make measurements and take templates. I'd love to know if it ever got finished!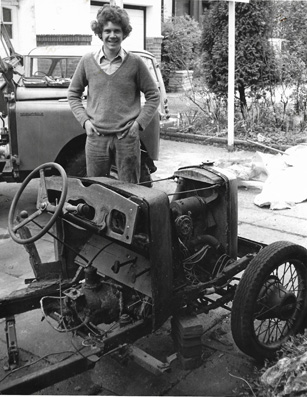 Centre throttle, ignition advance lever just visible through the steering wheel and foot operated started switch just behind the (three speed) gear lever. Remains of the ash frame can just be seen, as can the break in the chassis.
Behind is the Landrover and behind that another Morris Minor Traveller, bought from the Charles Ware Centre in Bath. Mum was a journalist, did a piece about him for a magazine and was so taken she ended up buying a car off him.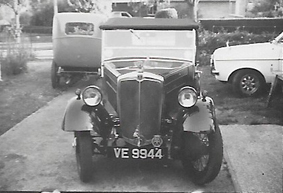 Here's what I hope she ended up like again (courtesy of a really nice guy I bought…something off, it was a very long time ago)!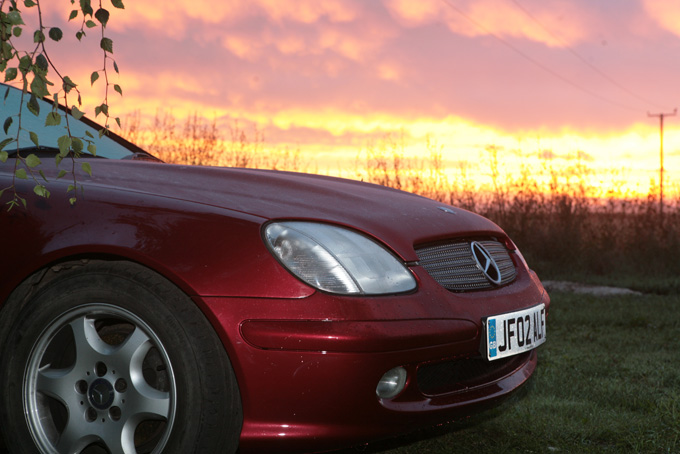 And finally, how I get around today. This is the sharp end of a Mercedes SLK200 Kompressor, made in 2003. Kompressor is merc-speak for supercharger and you can really hear it whine at high revs. This was the first car ever to feature a hard, fold-away roof and I'm proud to have an early example in such a great colour.  The picture actually belongs in the page about fill-flash photography but I sold four old classics to buy her, including a Morris Minor Traveller to Italy, a Series 2 LandRover to Belgium and a Renault 5 to Slough (you can't win them all) and the message "know when it's time to move on" is a theme in "Counting the Clouds". So "Alf" earns a slot at the end of this page. The best car I've ever had. Love her to bits. Really expensive when she breaks…